Wenn Sie nach einer Anmeldung auf dem NetScaler mit der folgenden Meldung konfrontiert werden: Cannot complete your request / Anforderung kann nicht abgeschlossen werden, finden Sie zahlreiche Lösungsvorschläge, wie Sie den lästigen Fehler loswerden können.
Die oben genannte Fehlermeldung kann eine Vielzahl von Ursachen haben. Wenn Sie im Eventlogs des StoreFront Servers zwei folgen Einträge (ID 6, ID 10) vorfinden, dann sollen Sie unbedingt die Citrix Gataway Session Profile überprüfen. Möglicherweise wird das Fehlverhalten durch ein Konfigurationsfehler verursacht.

Event 6: Citrix Authentication Service
CitrixAGBasic single sign-on failed because the supplied domain: 192.168.1.1. is invalid. This has two main causes, either; The single sign-on domain specified in the Citrix Gateway console is invalid. or If the domains are being restricted in the StoreFront console, then the domain: 192.168.1.1. is not present in the list of Trusted Domains.
Event 10: Citrix Receiver for Web
A CitrixAGBasic Login request has failed.
Citrix.DeliveryServicesClients.Authentication.AG.AGAuthenticatorException, Citrix.DeliveryServicesClients.Authentication, Version=3.22.0.0, Culture=neutral, PublicKeyToken=null
Solutions
1. Navigieren Sie zum Menüpunkt Citrix Geteway > Citrix Gateway Virtual Servers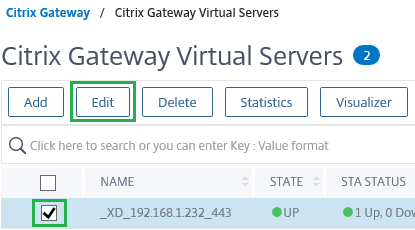 2. Herunterscrollen zum Feld Policies > Doppelklick auf Session Policies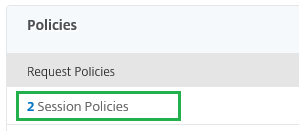 3. Einen entsprechenden Eintrag auswählen und den Punkt Edit Profile aus dem Dropdownmenü anklicken.

4. Weitere auf Registerkarte Published Applications. Korrigieren Sie die Information in dem Feld Single Sign-on Domain. Ersetzten Sie die IP-Adresse durch den Domain-Name wie z,B. demo.lab.
5. Speichern Sie die vorgenommenen Änderungen
Weitere hilfreiche Links zum Thema: "Anforderung kann nicht abgeschlossen werden":
Eine vollständige Liste aller Artikeln zum Thema finden Sie unter diesem Link: Citrix Knowledge Center